The Spirit of Grace
A Shamanic Journey of Reunion
September 11-22, 2020
Hello Friends, A call has gone out to return once again to Peru and I am excited to experience this wonderful, strong, magnetic yet very loving country again. Peru is an unforgettable experience of incredible beauty, sights, sounds and colors. The magic is palpable, the Anpus, or spirits are quite evident and permeate everywhere around you within a cacophony of nature! I envision this journey as a small private group. Our shaman is Mallku and I have worked with Mallku since 2005. He is knowledgeable, experienced and very skilled in the art of communication and connection to nature.
This particular journey is about building a stronger foundation within your life that can allow you to live a more enriching and nourishing life. As we go forward new steps must be taken, new questions asked with deeper and more insightful answers received and creative visions expressed. Capricorn in its home sign Saturn until December 2020 and demands we make it real. It is about gathering the material, resources and vision to build a life that will be more fulfilling, courageous, prosperous and wise.
Classes, experiences and discussions will occur that can assist you in making that happen! Some of my most memorable and visionary experiences have happened in Peru! I will share them on the journey!
Peru Itinerary 2020: The Meeting of the Andean Masters
* please plan to depart from your gateway city on September 10, 2020, in order to arrive in Cusco Peru by early morning. My agent can help you to arrange your travel perfectly.
Day 01. ARRIVE CUSCO – CHINCHERO & SACRED VALLEY Depart for our morning flight to Cusco. Reception and transportation to the Sacred Valley. On the way to our lodge we will stop at Chinchero and visit the amazing Earth Altar. Discover the Magic Hatun Chinkana of this initiatory center. This Waka or sacred place is as the Brain and with its vibration will permit us to travel to the dimension of the soul. Here we ask permission and participate in a ceremonial prayer for Mother Earth (Pachamama), safety in our travels, and our own personal wishes to enter to the magic Andes. We will spend the night in the Sacred Valley. (L)
Day 02. SACRED VALLEY: OLLANTAYTAMBO – MORAY In the morning we will explore the absolutely unique and ancient Inka center of Ollantaytambo, where the buildings still retain the original architecture of the Inkas. We will have an opportunity to enter into one of the homes and see how the people live in these ancient constructions. As we explore the vast temple complex adjacent to the village, we will engage in a meditation. Our climb to the top takes us to the Sun Temple, whose huge red porfire blocks were placed overlooking the fertile valley and the Willkamayu River. In the afternoon visit to Moray, a powerful Inka site with circular terraces that used to create exceptional conditions or micro climates. This fostered domestication, acclimatization and hybridization of a wide array of wild vegetable species that were modified or adapted for human consumption. Here our Andean master guide will instruct us in walking exercises and a meditation with the energy of this amazing power spot. (L)
Day 03. MACHU PIJCHU – SACRED VALLEY In the morning we will have the train ride to the village of Aguas Calientes and we will visit the famed city of Machu Pijchu, named by Mallku as the Crystal City, the Rainbow City, the City of the Kondor and the Hummingbird, the City of Peace, and the City of Light. The legendary beauty of this magnificent city defies description. There are many trails and power sites to explore here, and we will have ample opportunity for ceremony to open to a deeper experience of the intrinsic magic of this amazing city and temples. Guided visit with esoteric insights on the various temples and power spots with inspiring cosmic. ceremonies to strengthen your connection with your True Self- a trans personal, transformation journey within. In the right time, we return on an afternoon train and bus to the Sacred Valley for overnight. (L)
Day 04. SACRED VALLEY – PISAQ – TIPON – CUSCO We leave in the morning to visit the ancient Inka town of Pisaq. The entire mountain behind the village is considered an archaeological treasure, and for good reason. We are bussed several miles up to the top, from where we can hike downhill past ancient sites and burial grounds along an amazing trail with breathtaking views. We arrive to the Inka temples and observatories and have ceremony. We then continue to a place where our bus has driven to meet us refreshed from one of the energy of this region. After our ritual according to the time conditions we continue our trip and visit Tipon, an ancient agricultural site with many terraces and an intricate irrigation system that runs along a most beautiful site of the Temple of the Water. Tipon, a place of great water fountains, is another one of the most important architectural complexes found in Cusco vicinity. This old site is located 23 km. Southeast of the Inka capital at a height of 3,600 meters above sea level; the highest area of the park is found at the pass of Ranraq'asa above 3,900 meters. It belongs to the district of Oropesa, province of Quispicanchis in Cusco. In the afternoon, we will arrive to Cusco for overnight. (L)
Day 05. AMARU MACHAY – Q'ENQO & SAQSAYWAMAN Visit to Amaru Machay, the Cave of the Serpents. Guided ceremonies at this powerful location; continue to Q'enqo, the sacred place of the Puma. Our specialist guide will show to you the magic of the ancestors and the esoteric wisdom of the heavens where astronomy was the base to understand a practical life as a way of meditation. Q'enqo means labyrinth or zigzag. Located near Cusco, this temple was dedicated to Mother Earth as a unique center of initiations and for ceremonies. It has numerous ceremonial carvings, holes and canals cut into the rock. One of its features is a semi-natural underground chamber. Limestone formation intricately carved with depictions of mythical beings, as well as winding underground passageways and semicircular amphitheater. Continue to Saqsaywaman,a huge,stunning site which holds the great House of the Sun. This is where the head of the Puma of Cusco resides. Its megalithic, zigzag stone walls were pieced together with amazing skill, drawing the Snake and other Andean symbols, like a lightening bolt across a great field. Saqsaywaman is located one kilometers from the city of Cusco. The immense walls of the complex made up of huge stones are distributed in a zigzag pattern over three platforms. Over night in Cusco. (Vegan Lunch )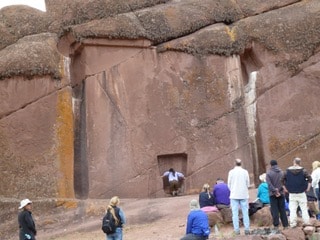 Day 06. HOUSE OF THE MOON – TEMPLE OF THE SUN In the morning we discover the House of the Moon, an initiatory center to work with the feminine energies and discover the cosmic approach of the Andean ancestors. This is where the activation of the Lunar frequencies will help to renew the path of your soul. Return to Cusco and in the right time visit the amazing Temple of the Sun, the Qorikancha is the solar temple that survived to the full destruction and its walls still talk about a glorious time. Return to the hotel and rest with inner soul reunion complete. (L)
Day 07. CUSCO – FREE DAY This is a free day at leisure – a perfect time to see more of the beauty of Cusco, visit some of the museums, art galleries or others. Late afternoon we all join in a drum ceremony celebration. (VEGAN DINNER) *This free day is also for the ones who are in the energy for a different ceremony, a traditional Andean plant spirit medicine – the sacred Wachuma journey can happen.
Day 08. CUSCO – PUNO (LAKE TITIKAKA) – RAQCHI We leave Cusco this morning for Lake Titikaka. This is a pleasant drive with stops along the way and a perfect opportunity to connect with and take in the power of the Apus or Mountain Spirits. We will stop along the way at Raqchi, the magnificent Temple of Wiraqocha. This is an extremely powerful site and according to the old storytellers, it was built by the Inka Wiraqocha in honor to the Great Spirit who was invisible to the Andean people – "Apu Kon Titi Wiraqocha." We arrive at our hotel in Puno in the late afternoon. (Dinner)
Day 09. TITIKAKA In the morning we discover some of the islands at the National Reservation of Titikaka as we meet some of the descendants of the Uros community. Follow the flow of the inner rivers connecting with the pristine waters of the Titikaka which is the female pole of the planet. Return to Puno and have a relaxed evening. (L)
Day 10. AJAYU MARKA – CHARKAS We will have a departure to the ancient Aimara altars and will walk the sacred path of the Magical Serpent as we explore the Ajayu Marka, a multi-dimensional gateway to open our inner portals. In the right time we will continue to Charkas to discover other ancient paths and to honor the Great Spirit of the water as we connect to the energy of Fertility to empower our being balancing our male and female energies. Return to Puno and over night. (L)
Day 11. PUNO – SILLUSTANI – LIMA – HOME This is our last day in the mountains, and early in the morning we will visit the Andean Taj Mahal – Sillustani, another truly sacred place. We will participate in a closing ritual circle in Sillustani before transferring to Juliaca airport and return to Lima to meet your international connections.
Peru Travel Terms and Conditions:
INCLUDES:
All transportation and visits with entrance fees.
Accommodation in hotels 3*** with daily breakfast.
Company of expert guides in Andean culture.
Meditations, ceremonies and shamanic experiences.
All services in private for the group formed for this itinerary
*11 meals between Box Lunch, Lunch, Dinner according to the daily itinerary.
NOT INCLUDED:
Domestic flights from LIMA – CUSCO & JULIACA – LIMA.
International flights.
Meals beside the 11 on schedule and the daily breakfast.
Tips. Recommended: (200.00)
Personal expenses.
Personal accident travel insurance. *THIS IS MANDATORY
Other not mentioned.
*WACHUMA: The price per person for this ceremony, which is optional, is US $100. Please pay in cash to Mallku at time of ceremony. This price is based on 6 participants.
NOTE: I have arranged for an agent to help you coordinate your flights.
Tell Susie Bostick that you are with the Imsara Group going to Peru
Susie Bostick: (800) 245-8326 extension 7627
email: sbostick@thetravelteam.com
COST of package excluding airfare: $4,050.00 Non-refundable initial deposit of $900 to reserve your place. Second Payment of $1,575 is due by May 1, 2020 and 3rd payment of $1,575.00 due by July 1, 2020. Credit cards will be assessed a 3.75% surcharge.
Cancellation: Must be received in writing 60 days or less prior to departure: Refunds 60+ days prior to departure: 50% refund minus deposit. 90 days prior to departure: 70% refund of monies paid minus deposit.
*Travel and Health Insurance is MANDATORY—these days you must safeguard your investment and your health. Registration is not complete until proof of insurance is presented. Recommended: SQUAREMOUTH.com. You can call and talk with them or just go to the website, plug in the numbers and it gives you a neat grid to choose from several companies. Make sure you get medical with flight evacuation HOME.
Tipping: The suggested amount to reserve is approximately $225. Again, how much you choose to tip is your decision according to your means and heartfelt appreciation. These tips can be given in Peruvian sole's or USD.
Payment:
Personal checks, credit cards, PayPal and cash are welcome. Please make checks payable to Dr. Imsara, 1505 Pass-A-Grille Way, #11, St. Pete Beach, Fl. 33706. Arrangements can be made to pay the balance of the trip cost after the deposit is paid via cash, check or credit card. The balance can be paid with a credit card, however, there is a 3.75% fee to cover our costs for that service and you must supply proof of sufficient travel insurance. Deposits are non-refundable. Please procure travel insurance upon making a deposit. The full and final payment for the trip is due July 11, 2020. If the final payment is 14 days late without prior arrangements, a late fee of $100 will be assessed. We reserve the right to drop anyone who does not complete the final payment two weeks after the due date without a refund.
Cost increases: Tour costs are printed well in advance of our actual travel dates. In exceptional circumstances, the cost of your international trip may be subject to increases
The group will be intimate for a private and harmonious experience in Peru. And so it is….
Imsara
Introducing Mallku
An artist and a promoter of Andean Culture – MALLKU collaborated during the 1980s as a co-editor of books on Natural Medicine. In 1997 he presented his book "The Awakening of the Puma, Inka Initiation Path," in which he revealed his expertise in understanding the Esoteric Knowledge within Andean Archaeo-astronomy. In 1999 he paid tribute to the Sacred City of Machu Pijchu in his book "Eternamente Machu Pijchu, Ciudad de Peregrinos" (Machu Pijchu Forever, City of Pilgrims). His extensive research has earned him well-deserved recognition and acknowledgements, including the publishing of his books in Brazil, Poland and Hungary. MALLKU is an international lecturer and teaches about the Ancient Culture of the Andes, promoting a Shamanic experience as one of the Paths of Liberation for the present generation. In his current book "Inka Power Places, Solar Initiations" he reveals important secrets of the Initiation Knowledge of the Amauta Sages, which were expressed in their Temples, Palaces and Cities as testimony for all time. Dr. Imsara, DOM, MPH, AP (Doctor of Oriental Medicine and Evolutionary Astrologist) Imsara enjoys painting in colorful acrylics, making healing elixirs from around the world and who also hosts groups of travelers who want to expand their experience of the world-at-large. Imsara has studied creatively at Findhorn in Scotland, British Columbia, Egypt, Peru, and China, where she interned as a student of acupuncture. Moreover, she holds a Master's Degree in Public Health from the University of South Florida. Imsara has taught beginning to advanced Evolutionary Astrological classes, MAP, I Ching, Elixir Making and Energy Medicine classes extensively since 2005. She is currently writing a book based on her work of the past 18 years. is work has to do with using MAP along with vessels of transformation known as "Pyramids." The purpose of the work is to help liberate a person as they walk their own unique evolutionary path. Imsara has periodically travel to Peru since 2004. Stay tuned for announcements of other journeys ahead to Egypt and Mt Shasta with Crater Lake.