JUNE 3-10th, 2022 (full) and JUNE 13th – 20th, 2022  – Two Retreats! 
the True Self and your Inner Voice
the Call of Nature
the Elements of Wind, Earth, Air, Fire
Our retreat is called NatureSong and the name is always intentional and reflective of its inner truth. It is called NatureSong because the purpose of this journey is to provide expansion and frequencies that activate the unique inner voice that each person uniquely carries within their heart.
It is about living in harmony within yourself, within life and within the world at large, despite what is occurring around you.
All of Nature has a role to play in life and so do you.

There is no place like Mt. Shasta, California. The entire area is located within one of the most transformational energy grids in the world and the origin of the Lemurian legends. Residents who reside there will tell you stories of encounters with Lemurians, hidden cities, Saint Germain and alien landings. It is home to the annual May Wesak Festival and to the inner lodges of the White Brotherhood. It is also home to strong electromagnetic energy grids and vortexes and is a multidimensional gateway to many different bands of consciousness. It is considered one of the seven energy centers of the world with Mt. Shasta as the base. It is unbelievably beautiful!
As you approach Mt. Shasta it feels as if you are riveted by some incredible, invisible yet welcoming hand. Many come and have no idea as to why, but once they depart they feel transformed and never forget it. It speaks in whispers and nudges and it is up to you to answer the mountain's call.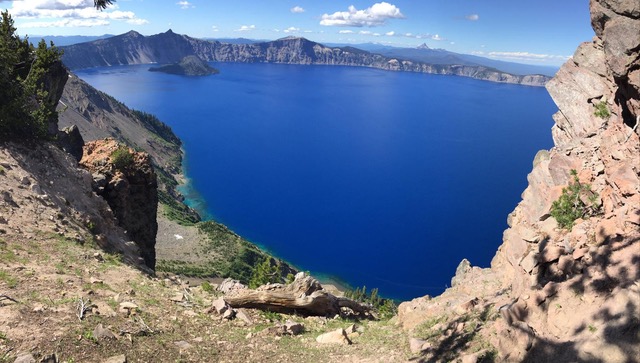 Once you are there, it exposes you in ways you can never fully understand. You not only question your desires, values and attitudes in life but you also come to terms with your past, leaving it behind for good as you follow a new pathway to your future.

Crater Lake, Oregon is a breathtaking experience of blues, clear crystalline energy and mesmerizing vistas. It is considered one of the most stunningly beautiful places on the planet. It acts as a blue mirror, pulling you in to the depths of your very core, where new gifts of clarity, purpose, insight and attitude await. It is unforgettable and will mirror to you the beauty and peace that you posses within. Its gift gives you the ability to birth a new way of life.
This is truly a journey that will open you to new paths and new connections! You will amp up your Spirit, purify your mind, nourish your heart and merge fully with Nature!
The classes included are evolutionary astrology and elixir making with the opportunity to make your own personal healing elixirs. I will discuss with you your Mt. Shasta chart for the purpose of giving you greater understanding of your visit along with kundalini yoga and meditation classes. You will have the opportunity to meditate, luxuriate and immerse yourself at many of the most active energy sites in Mt. Shasta. We also have unique opportunities to visit energy vortexes, like the Super 10, that are hidden to the general public.

Accommodations and Energy Vortex sites:
As you deepen daily in communion with celestial and cosmic natural forces, you will be staying at our very comfortable and secluded accommodations situated in the heart of Mount Shasta town, at the foot of the mountain itself. This beautiful home is situated ideally suited for groups! Our adventure includes a day trip to Crater Lake and 8 fulll nights in Mt. Shasta. Our Mt Shasta accommodations include:
HUGE breathtaking views of Mt. Shasta, Castle Crag Highlands and Black Butte
A spacious custom designed log cabin chalet with plenty of space and only a short distance from the downtown of Mt Shasta.
Decks, Balcony's, and plenty of cozy space to have classes and regenerate plus a sauna!
Everything that is required for your comfort will be provided to you and is included in the cost. This experience is designed to streamline details into one easy package of delight and enjoyment. Your land transportation, food and lodging is included with only a few additional meals out you will need to budget for.
Sites For Exploration Include:
An unforgettable full day outing to the rainbow crystal waters of the volcanic caldera Crater Lake in Oregon
Hike (optional) to Heart Lake-please see picture.
Panther Meadows
Water Falls
Bunny Flats
Super Fields of energy vortexes known as the "Super 10″
Telos Portal of Knowledge
Sacramento Headwaters —we drink from the heart of the mountain of Mt Shasta-and carry it home!
Serenity Vortex
Crystal Lake
World Class Crystal Shopping
and more!
CLASSES:
There will be classes designed to help you gain insights and deepen your clarity, self understanding and self enrichment in accordance with your life direction and purpose.
Alchemical Elixir Making with Nature and the Brotherhood of Light (supplies provided)
A Dowsing Class—find your energy places with precision
Gem Elixir Making-from your own personal find
Kundalini Meditation & Kundalini Yoga
Evolutionary Astrology with individual's horoscope with Mt. Shasta's message for you
Collage Oracle Cards – making your own oracle deck using your own inner Sage
Intro to the Alchemical Cosmic Pyramids of Light
All the above is included. You are responsible for airfare, approximately 3 to 4 meals, personal shopping
Our experience includes retreat style shared accommodations with a well stocked and self-catered pantry for breakfast, lunches and a few group cooking adventures where fun is had by all; all land transportation (Except RT airfare), classes and workshops. This experience is designed for the purpose of also building community.
You need only bring $ for about 3-4 meals out (budget $12 -$17 a meal), Shopping (we will also explore in Mt. Shasta stunning gem and crystal shopping), and your personal items. Our fridge will be stocked with a variety of wholesome foods throughout the week w/ access to markets regularly. You will have an ABUNDANCE of food, love, beauty and energy all available to you.
To Register: $1,775 all inclusive EXCEPT RT airfare to Redding, California
Accommodations for 8 nights at our spacious and first-class log cabin chalet. Self-catered meals, transportation, classes included. The fun is included too!
Registration Information:
You can conveniently register/make payments via check, Paypal or phone my office with your credit card.
Rate $1,775 per person: A non-refundable deposit of $575 to secure your space. This is non-refundable. Remaining 2 payments due of $600 to be paid in full before trip start.
The initial deposit is non-refundable. Additional payments are refundable if cancellation is made in writing 65 days or more prior to departure. It is wise to secure travel insurance once you make your deposit for the protects your investment.
Airfares are reasonable at the moment. Please note that the weather is sunny with cool nights and beautiful summer greens and blues. We are limited to 10 participants. Deposits are required to reserve your space. The initial deposit is non-refundable. Additional payments are refundable if cancellation is made in writing 60 days or more prior to departure. It is wise to secure travel insurance once you make your deposit for the protects your investment.
Travel insurance is required. Check out: squaremouth.com.
For airlines check out Orbitz, United flights and note that Tampa now has a direct flight to San Francisco where you will catch a smaller plane to Redding, California. Please plan to arrive by mid afternoon on arrival date. Plan departure for mid-morning or afternoon on last day of retreat.
Early AM departures will incur extra transport fees for you-up to $150