April 26 – May 11, 2024
Dr. Imsara, with Quest Travel, presents a private pilgrimage to Egypt, a 16-day journey for awakening to the Amethyst Heart. This will provide personal growth and Soul Awakening as we meet these potent and creative times!
The Time is Now…
Included in your journey:
9 nights on the Nile, aboard the 5-star private yacht 'Dahabia Afandina'
Private visit inside the Great Pyramid for initiation
Private visit to Philae temple
Private visit between the Paws of The Sphinx
Guided by an experienced Egyptologist, personally selected by Marawan Nazmy.
In addition, there will be talks and informal lectures given by Imsara as time permits
A core intention is to introduce ways you can help yourself progress on your evolutionary path.
DAY 1 – DEPART FOR CAIRO
Depart from your point of origin for Cairo, Egypt.
DAY 2 – CAIRO / OPENING CIRCLE
Welcome home to the beloved land of Egypt, also known as Kemet the black-land. You have stepped foot onto the land of alchemical trans- formation. You will be greeted at immigration by a tour Quest representative to help with travel visa, collecting luggage and customs.
You will then be escorted to an air-conditioned bus that will start the journey of seeing the sites along the streets of Cairo.
After checking in at the luxurious and historic Mena House you can take a short rest in the comfort of your room, explore the hotel and the incredible swimming pool, and exchange dollars in Egypt pounds at the convenient bank located in our hotel. Late afternoon we will gather in the hotel lobby to journey a short distance for a Welcome Dinner of delicious Egyptian food, get acquainted with fellow travelers and go over the tour schedule for the next few days. Includes dinner.
DAY 3 – GIZA PLATEAU / SPHINX
PRIVATE VISIT
At dawn, we will experience sunrise at the Valley Temple of Chephren. During a special private visit, our group will have the opportunity to do our opening meditation between the Paws of The Great Sphinx. Then we are off with our Egyptologist guide to dis- cover some of the most awesome wonders of the World–the Pyramids of the Giza Plateau.
Then back for the luxurious hot buffet breakfast at the world-renowned Mena Hotel. Includes breakfast.
DAY 4 – ASWAN
We temporarily say a heartfelt goodbye to the Mena House and take a short flight to Aswan and check in on the Afandina, our private sailing vessel.
Aswan was the gateway to the interior of Africa and an important center of trade. The stone quarries in the area provided the Pharaohs with gray and pink granite for their buldings and statues. Includes breakfast, lunch, dinner.
DAY 5 – PHILAE / KOM OMBO TEMPLE
PRIVATE VISIT
As the golden dawn rises we will take a boat and gently slip onto the magical island of ISIS, the Great Mother. In a private sunrise meditation we return to the Source of all, the Great Goddess and Mother, to receive the blessings of Isis at her beautiful home and island temple at Philae. This isle represents a fusion of three great civilizations–Egyptian, Greek and Roman. Later we will gather on deck to share our experiences as we set sail to Kom Ombo.
At Kom Ombo, we visit the only dual temple in Egypt. This dramatic temple poised between the edge of the river and the encroaching desert sand was dedicated to two gods–Sobek the crocodile god of strength, fortitude, fertility and rebirth, and Horus the hawk-headed son of Isis and Osiris. One of the most powerful places in Kom Ombo is the Seat of Neutrality, which is placed on the exact centerline between the parts of the temple that are dedicated to Horus / Sobek and Light/Dark. We will dock near Kom Ombo for the night. Includes breakfast, lunch, dinner.
DAY 6 – SAIL TO EDFU
We will sail to Edfu enjoying the sights of the Egyptian communities and countryside on the banks of the Nile. Includes breakfast, lunch, dinner.
DAY 7 – EDFU
In the afternoon we visit EDFU and the Temple of Horus. The temple of Edfu is understood to symbolize the struggle between the True Self and the Ego. This temple is stunning, beautifully preserved and as you approach it you will get a feel for its enormous dimensions.
This temple is also a site that has catalyzed many a triumphant battle over the ego, aligning it so it can be led by Spirit. Horus is associated with higher vision and clarity and his most revered image is that of the Hawk, whose vision was able to pierce through the many veils of misunderstanding in order to illumine the truth. His left eye is lunar and feminine and his right eye is solar and mascu- line. They stand as two doorways to the inner temple known as the Third Eye. In a private empowerment we will work with balancing the lunar and the solar energies inside of us and awaken our intuitive centers to be able to experience a higher perspective. Includes breakfast, lunch, dinner.
DAY 8 – SAIL
Today we sail to Esna. Enjoy the comforts of the Afandina, a womb of cosmic consciousness, and the wisdom and serenity of the Nile River itself.
Imsara will plan one or two lectures while on board the Afandina. Imsara will also present an introduction to her alchemical experiential course called The Cosmic Pyramids of Light. Includes breakfast, lunch, dinner.
DAY 9 – LUXOR / KARNAK TEMPLE
We spend the morning sailing to Luxor, crossing the Esna Lock.
In the afternoon we visit to the magnificent Karnak Temple. Karnak is the biggest temple complex in Egypt–and a very special place. It is dedicated to the Gods Amun and Mut. As you enter, you walk between a row of rams-headed sphinxes, which originally connected Karnak with Luxor Temple two miles away. Take some time to visit the sacred lake of Karnak, ask for purification and place your intention in your mind's eye into the lake.
Outside the main halls is a small chapel dedicated to Sekhmet, her consort Ptah and their son Nefertum.
Sekhmet is the lioness Goddess of compassion and courage. She is associated with feminine fire and healing through destruction. She is a renowned healer and known for her magic and ability to hunt down an imbalance at its origin. In a potent private initiation we will honor the Goddess and receive the gift of courage to be our authentic selves. Includes breakfast, lunch, dinner.
DAY 10 – DENDERA / ABYDOS
This morning… love and joy. Denderah is a "birthing" site, with the Hathors holding sacred space using harmonious cosmic frequencies.
We will do an energy exercise that helps us to walk from our past into our emerging future True Selves and empower us to take deeper ownership of our soul song.
The temple is built with a zodiacal ceiling that recalls the origins of Egypt, Astrology and Astronomy. On the rooftop where Hathor priests and priestesses gathered for their celebrations thousands of years ago, we reconnect to our destinies.
We then continue north to the temple of Abydos, a house of resurrection and home to the Flower of Life, the genetic temple of the human DNA. This temple is dedicated to Osiris and houses the nine great beings called the Ennead. The Ennead can be understood as nine is really ONE and that your ending is your beginning. One of the premier energy places on the planet and where we gently lay our old selves to rest. Includes breakfast, lunch, dinner.
DAY 11 – WEST BANK
*Optional Hot Air Balloon
This morning we make a sunrise pilgrimage to Deir el Bahari, the funerary temple of the female pharaoh
Hatshepsut. We will also visit the Necropolis of Thebes on the West Bank of the Nile. Here are the tombs of Tutankhamun, Ramses III and VII, Seti I, Thutmosis III, and many others. We will explore at least 3 of these feats of archi- tecture and art. We will also visit the Colossi of Memnon. Includes breakfast, lunch, dinner.
DAY 12 – LUXOR TEMPLE
A free day until evening when we pay a night visit to the Temple of Luxor and work with the brilliance of the human body. Here we are able to see that this temple is built like a human body–the outer layers represent the feet and as we move deeper into the temple, we move towards the head, where the holy
of holies, the inner sanctuary is located.
This is a wonderful place to focus on physical healing. As you walk through the body of this temple, notice how your body feels and re-member radiant health. Awaken the parts of you that are sleeping, activate divinity codes and turn on your inner light. Includes breakfast, lunch, dinner.
This evening we enjoy our last dinner aboard the Afandina.
DAY 13 – GEM MUSEUM* / BAZAAR
*Gem Museum (if open)
In the morning we say our goodbyes to the Afandina family and take a one hour flight to Cairo.
We visit the new GEM Museum to view the spiritual legacy of priest kings, queens, scribes and healers. The museum holds an astounding collection of Egyptian antiquities and exhibits over 120,000 artifacts, including those from the tomb of Tutankhamun.
We'll then stop by one of the oldest shopping districts in the world, the Khan El Khalili. It is like going back to the time of Ali Baba and Aladdin. Merchants have been trading on this site since at least the 14th century.
*In the event the GEM is unavailable, we will visit the original Cairo Egyptian Museum.
Check back into the fabulous Mena House hotel. Rest and enjoy the comforts of the Mena. Includes breakfast, lunch, dinner.
DAY 14 – ALEXANDRIA*
*Or: Rest & shopping / Oils with Gamal
A very special day, courtesy of our Egyptian travel team! Off to Alexandria to visit the Alexandria Library, then enjoy a sweet swim in the Mediterranean Sea. It is a perfect time of the year to enjoy Alexandria. You'll have tea at sunset at Mohamed's House overlooking the Mediterranean Sea. incl Breakfast, Lunch
DAY 15 – GREAT PYRAMID / SAKKARA
PRIVATE VISIT
In the morning we will have a special private visit inside the Great Pyramid with a culminating initiation in the King's chamber. Here, we unite our life story with the story of those who have come before us and those who will come after as we embrace the transformation that we have experienced.
Following breakfast, we travel by luxury bus to Sakkara, where we visit the oldest pyramid, the Step Pyramid of Djoser, and its temple of sound and healing. This magnificent site includes other Old Kingdom tombs, among them those that hold the earliest known hieroglyphs, the Pyramid Texts that were the model for the Egyptian Book of the Dead.
We will have a celebration and sharing circle prior to gathering for our Farewell Egyptian Dinner. Includes breakfast, lunch, dinner.
DAY 16 – DEPARTURE or TRANSFER
Journey's end — back to Cairo Airport for departure. Know that you have a second home on the planet – within the arms of Isis. Includes breakfast.
ITINERARY IS SUBJECT TO CHANGE DUE TO REASONS BEYOND OUR CONTROL.
---
EGYPT – 16 DAYS: $6955
$1000 deposit + 3 payments of $1985
Last payment due February 2, 2024 unless other arrangements are made with Imsara.
Pricing does not include international airfares and based on double-occupancy.
EXTRAS:
Hot air balloon ride is $135 and requires reservation.
Single supplements have limited availability & first come/first serve. See Terms & Conditions (available after initial reservation payment) for pricing details.
Package Pricing
Trip cancellation & insurance is mandatory as soon as you make your deposit.
This protects your investment! World Nomads is highly rated and covers pandemics.
See Terms & Conditions for full package detailed breakdown.
We work with Susie Bostick to help you arrange your airfares. Her contact information will be included in your registration materials.
Dr. Imsara, DOM, MPH, AP
(Doctor of Oriental Medicine and Evolutionary Astrologist)
Imsara enjoys painting in colorful acrylics, making healing elixirs from around the world and who also hosts groups of travelers who want to expand their experience of the world-at-large. Imsara has studied creatively at Findhorn in Scotland, British Columbia, Egypt, Peru, and China, where she interned as a student of acupuncture. Moreover, she holds a Master's Degree in Public Health from the University of South Florida.
Imsara has taught beginning to advanced Evolutionary Astrological classes, MAP, I Ching, Elixir Making and Energy Medicine classes extensively since 2005. She is currently writing a book based on her
work of the past 22 years. This work has to do with using MAP along with vessels of transformation known as "Pyramids." The purpose of the work is to help accelerate and liberate a person as they walk their own unique evolutionary path.
This is Imsara's 17th journey to Egypt, where she first met the wonderful Mohamed Nazmy, founder of Quest Travel. Mohamed has co-created Imsara's journey's ever since and is the favorite host to people from around the world, from Yanni to Gregg Braden and more. Mohamed is known around the world for his generous heart and his magician like abilities that take a visit to Egypt into the Extra-Ordinary. You are safe, you are loved, you are beautiful!
Marawan Nazmy
His father was the magician of Egypt, and now the legacy continues with the Egyptian Young Pharaoh.
Marawan Nazmy is known as the man of impossible missions! Marawan is Quest Travel's Chairman who fiercely took over after the loss of our dear Mohamed Nazmy (Quest Travel's Founder) in 2018. Marawan was able to magically fit in his father's big shoes in no time and with zero percent of deficiency. Not only does Marawan prove his success daily through serving people out of love, but he manages to consistently maintain the outstanding service he provides to his people; clients and employees. He calls them all as family and that's what has always kept Quest Travel's unique edge. Marawan has the significant mix of the genes of generosity, love and unconditional giving as well as the well rounded modern young man who enhanced the business through his education as a high honors bachelor graduate of Business School from the German University in Cairo.
Your Quest Travel Guides:
We have secured the best of the best: Emil Shaker, with more than 4 decades of experience. His passion for having you experience the sacred and mystical aspects of ancient Egypt speaks for itself. His sense of humor and charisma when it comes to interacting with the gatekeepers at these sacred sites will have you laughing and retelling stories for years.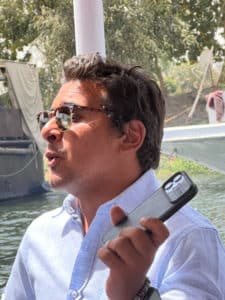 Ahmed R. Dezwie is a talented and gifted tour director for those that are wanting excellent support, attention to detail and superior communication skills. Ahmed speaks Arabic, English and French fluently. No need is too small and he always goes above and beyond what is expected. He also has superior photography & video production skills & shares his mastery freely! See Mohamed's biography written by Sharlyn Hidalgo – Love is My Religion
---
RESERVATIONS & CONTACT:
You can reserve online with our booking form or contact Dr. Imsara, DOM, AP, Evolutionary Astrologist if you have questions before making your reservation.